UNDERSTANDING A CARFAX REPORT
TOTAL LOSS:
An insurance or fleet company declares a vehicle a total loss when a claim exceeds approximately 75% of its pre-damage value or if the vehicle is stolen and not recovered. This damage threshold varies by company. Not all total loss vehicles result in a DMV-reported branded title, like a Salvage or Junk title.
ACCIDENT DAMAGE:
Various events could indicate an accident or damage in a vehicle's history, such as: salvage auction, fire damage, police-reported accident, crash test vehicle, damage disclosure, collision repair facility and automotive recycler records.
BUYBACK/LEMON:
A DMV or a state agency marks an official document or issues a Manufacturer Buyback/Lemon title when a vehicle has been repurchased by the manufacturer. Not all states issue manufacturer buyback titles and the specific requirements for a lemon law vehicle varies by state.
ODOMETER CHECK:
CARFAX analyzes mileage data to help identify potential:
– Rollbacks – odometer tampering to conceal a car's true mileage (i.e. Fraud or illegal activity)
– Rollovers – after reaching the maximum reading, the odometer restarts from zero (i.e. Mechanical or equipment limitation)
– Inconsistencies – conflicting mileage data means CARFAX cannot determine if it's a potential rollback (i.e. Potential human error)
MANUFACTURER BUY-BACK:
A Lemon, or Manufacturer Buyback, is a vehicle purchased back from the owner by the manufacturer. It is offered as a courtesy or because of a defect, in the interests of customer satisfaction. Buybacks always carry the balance of factory warranty and occasionally, extended warranty on the repaired defect.
Myths about Manufacturer Buybacks.
MYTH 1: All buybacks are defective.
FACT: Vehicles are often repurchased in goodwill to maintain a relationship with the customer, not because there is a defect.
MYTH 2: I will buy someone else's headache.
FACT: The manufacturer is required by law to fully correct any issues before resale. Each Manufacturer Buyback vehicle is thoroughly inspected, ensuring the original problem has been corrected and the vehicle is in premium condition before being resold.
MYTH 3: Reselling a lemon will be difficult if it's marked on the title.
FACT: The price of a vehicle is determined by its law title. A lemon law title will attract a discount in your favor at point of purchase and discount in the buyer's favor at point of sale or trade-in.
AIRBAG DEPLOYMENT:
This occurs when the driver, passenger or side airbag has been used or deployed during a crash or other incident. If an airbag has been deployed, it must be replaced by a qualified technician.
BASIC WARRANTY:
Most manufacturers offer a basic warranty for new vehicles. These warranties vary by manufacturer and typically last for a certain amount of time and/or a set number of miles.
STRUCTURAL DAMAGE:
All levels of accidents, from minor to severe, can cause structural damage to a vehicle (i.e., damage to the frame or unibody). This simply means that the car has been in a previous accident and has sustained damage at one time. There is no distinction between a minor dent or a major accident. Due to Unibody construction, any vehicle that sustains any damage can be considered, even if the accident is as minor as an 1/8 inch-1 inch dent to the body or structure of the vehicle, or something much more serious.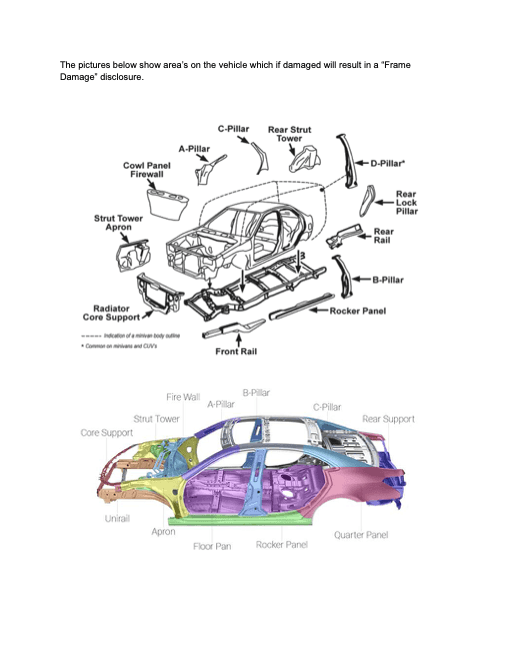 ***CARFAX does not inspect any vehicle they report on. Please note that a CARFAX report can change after your date of purchase. To ensure peace of mind we recommend getting the car inspected by a third party. Carfax is a third party vehicle history reporting company, not affiliated with Indy Auto Man. Indy Auto Man does not endorse Carfax, and disclaims any and all liability for any damage, economic or otherwise, which may result from the use or reliance on the information contained in the Carfax History Reports.